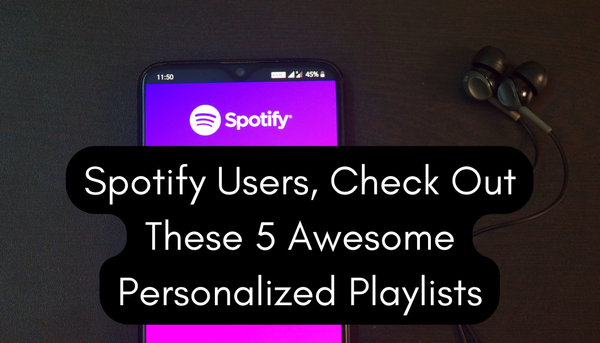 Spotify does a lot of things right. Whether it be cheaper subscriptions for students, its algorithms that help you find your next favorite song, or its easy-to-navigate interface, it is clear why Spotify has become one of the most popular music-streaming services in the world. One of the app's most prominent features are the personalized playlists it curates for each user, which, if you don't do much exploring on the app, you may not know about. 
Using data and algorithms, Spotify tailors several daily, weekly, seasonal, and yearly playlists for each user, free of charge. Find them by searching the playlist name or looking under the "Uniquely Yours" section in the app. 
Your Top Songs *Enter Year* 
Part of the "Spotify Wrapped" feature users are given at the end of each year, this playlist bundles your top 100 most-listened-to songs from the previous calendar year into a playlist titled "Your Top Songs (Year)." For every year you've had Spotify, you have one of these playlists. The order in which songs appear on the playlist signifies how many times you listened to them, with your most-listened-to songs at the top. There is no way to track your top songs throughout the year, so your favorite songs at the year's end may come as a surprise! 
On Repeat & Repeat Rewind 
"On Repeat" and "Repeat Rewind" were introduced to Spotify in September 2019 and instantly became user favorites. The former is what it sounds like -- a 30-song playlist comprised of songs you've had on repeat recently. "On Repeat" updates automatically every few days to include every song you've been continually vibing to. It's an easy alternative to queuing all the songs you want to listen to -- instead, Spotify put them all in a playlist for you. 
"Repeat Rewind" is where songs that are no longer worthy of "On Repeat" go. Spotify describes it as "past songs you couldn't get enough of," so if your "On Repeat" playlist gets stale, consider reverting to those songs. 
Discover Weekly 
Can't stand listening to the same music over and over again? Or are you struggling to find new tunes to listen to? Once again, Spotify has you covered. Based on the music you listen to, Spotify curates a personalized "Discover Weekly" playlist each Monday, comprised entirely of tracks and artists you may not know but fall within your favorite genres. 
If you don't have the patience to search for artists or songs that match your taste, this is the playlist for you. 
Your Daily Drive 
For the commuters of the world, "Your Daily Drive" combines songs you love with news clips to create the feel of a morning radio station. Every four songs, there is a brief news clip from a popular network, like NPR or The New York Times, updating you on current events around the country and world. The playlist ranges from two-and-a-half to three hours long and will surely entertain those who value news as much as they do entertainment. 
Release Radar 
Have trouble keeping track of new music and when it's dropping? "Release Radar" does it for you. There is a "New Releases" playlist Spotify conjures up every Friday that covers new music in every genre, but "Release Radar" is tailored to your preferences. Loads of new music comes out every Friday, which is when your playlist is updated each week. Check back each week to see new releases, most of which you probably didn't know about. 
Spotify has a lot to offer, even more than the personalized playlists mentioned above. The best part about these playlists is you don't have to do a single thing for them to be made for you -- not even have a Premium subscription. All you need to do is listen to the music that gets you through the day, and Spotify will do the rest.