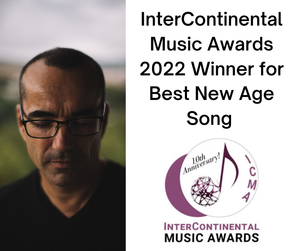 I am so thrilled to have received an InterContinental Music Award (#ICMA) for Best New Age song with my composition Blue Nights featuring the fantastic cellist Miriam Wakeling. 
You can see the list of winners for this year 2022 on the InterContinental Music Awards website here
About the InterContinental Music Awards: 
The Los Angeles-based InterContinental Music Awards (ICMA) evaluates music entries from a global and ethical perspective by a panel of judges who are active industry professionals and Hollywood music executives. Winners are rewarded with education, prizes and high quality, direct coaching on how to be successful in the music industry. 
For more than a decade, ICMA has recognized music talents from every continent and regions worldwide. Each year, they reward winners with exquisite prizes, from producing high-quality music taking them to the big stages in front of thousands of audiences, to educating and mentoring them on how to take their careers to the next level.