I am publishing the following article that talks about my recent InterContinental Music Award that was originally posted on the African Hype magazine website. You can read the original post here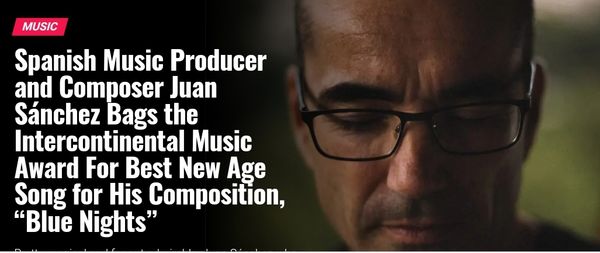 Spanish music producer and composer Juan Sánchez bags the InterContinental Music Award (#ICMA) for Best New Age song for his composition, "Blue Nights"
Pretty magical and far out admirable; Juan Sánchez who is a Spanish music producer, pianist and composer based in Barcelona has had a music career that has been nothing but a steady stream of beauty- his delicious compositions will always take you to a heavenly place of your choosing and no words are needed in here. You just immerse yourself and savor in that emotionally pulling artistic word as the hypnotic melodies hit you and drag you under in an instance! Like the singings of the birds as they smoothly croon, or the flutter of colorful butterflies flying carelessly in the air, so is the indescribable beautiful feeling that you get by pushing the play button and losing yourself to Juan Sánchez's compositions! 
 Juan actually started taking piano lessons as early as 14 years of age and during the end of the 80's up until the 90's he was already playing keyboards with different bands. Standing out as a virtuosic keyboard player with his skilled fingerprints hitting those notes adroitly to come up with scintillating melodies, he soon become a darling to many listeners before he decided to go to London in 1995 where he studied music and technology. From 1999, he went commercial and started producing instrumental electronic music and has been on this journey for significant number of years now. 
His artistic efforts have not gone unnoticed with Juan winning numerous accolades along the way. His spectacular productions have gotten positive reviews from popular music blogs and magazines with his compositions also featured in innumerable YouTube videos as well as short films. And just lately, he made history when he received a coveted accolade by winning the InterContinental Music Award for Best New Age song for his composition "Blue Nights" which he featured the indisputably stunning and gifted cellist Miriam Wakeling. 
It is indeed true that great things happen to those who wait and this is such an emotionally moving moment to see his efforts recognized by such an international body. This recognition will go on to open even more doors for him. I see that Juan's future obviously holds promises of mysterious good and this award is first of many international ones that will come his way for he absolutely deserves it. 
During the fantastic musical days before he won the award, Sánchez had been creating the brightest output of his career, leveraging the phenomenal of persistent determination to orchestrate results at a level of genius he has never experienced before and he was indeed taking over and attracting ears globally; one composition at a time! 
There are so many opportunities that come with winning such an award including education, prizes and high quality, direct coaching on how to be successful in the music industry. I can only imagine how this will be impactful to his career and I am so happy for Sánchez for his impressive expertise needed this recognition and boost and I am beyond doubt that it will propel him even to greater heights. 
With this award, Sánchez is now on an upward spiral to the top of a staircase of success and significance and as he takes this journey towards the fullest experience of his highest greatness, step by step, a magic and beauty as obvious as him as we witness here will infuse his artistic days and only accelerate over the coming years. I honestly cannot wait to see what lies next in store for him. 
Once again congratulations to Juan Sánchez on winning the 2022 InterContinental Music Award for Best New Age song for his composition "Blue Nights." May the bright future continue smiling on him!
African Hype Magazine