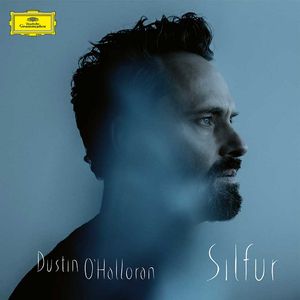 Dustin O'Halloran is an artist and composer who has always intrigued me because of the fact that he can seamlessly embrace some minimalistic melodies with his music. Yet, at the same time, he has a very diverse sound that feels spontaneous and focused, often embracing a huge variety of creative influences that inform the artist's sensibilities. Some people might be familiar with this Oscar-Nominated composer as a member of the duo "A Winged Victory For The Sullen," which specialized in experimental ambient music. As a solo artist, he is well-known for his sores composed for the movie "Marie Antoinette" by Sofia Coppola, as well as his work on the music of the show "Transparent," among many other achievements. Like many artists all over the world, myself included, O'Halloran had to deal with the unexpected and definitely make some changes to his plans. However, these changes are definitely not always for the worse! Sometimes, a difficult situation can turn into a valuable opportunity to be more creative and embrace some new ideas. 
One of O'Halloran's most recent releases happens to be a piano-based album titled 'Silfur'. This release is actually fueled by a rather unusual set of circumstances. The artist, who is originally from California, was located in Iceland when the 2020 lockdown hit due to the spread of COVID-19. Because of the sudden travel restriction, O'Halloran found himself stuck in another country and unable to go back home. However, he managed to turn a potentially stressful situation into a golden opportunity. He used his time in isolation as a way to channel the emotional introspection and the unique state of mind that these crazy times have brought on in the lives of all of us. Instead of panicking or feeling down, O'Halloran felt creative, almost liberated in how he could bring a different perspective to some of his older songs with a new sense of time and place, embracing the stillness of the lockdown and turning it into a big creative point for the artist. The main idea behind these recordings is to bring a new twist to some of the artist's previous material. The artist's label Deutchse Grammophon, approached the artist with this idea, which turned out incredibly productive! 
The name of the album itself is an Icelandic word meaning "Silver Rock", which actually stands out as a manifestation of how the artist managed to create a link between his situation, the music, and the place where he was located at the moment of the creation of this release. As an artist, I've always really admired composers who are able to really soak in their surroundings and get inspiration from the environment, the people, or whatever is happening around them at the time. The whole world is a big source of inspiration. Whether it is in reaction to some event (like the Coronavirus pandemic, in this case) or simply a reflection on a new place or encounter, music can come from so many different places. Aside from the concept, O'Halloran's music on 'Silfur' is absolutely wonderful. The sound of this release has a desolate, sparse, yet rich and detailed sound that really sets the bar higher in terms of capturing the emotional intensity of what the artist must have felt in this particular moment in time. 
In conclusion, I would definitely recommend you check out this beautiful, haunting, and atmospheric piano album. This happens to be some of O'Halloran's most sincere, emotional, and introspective work to date, and I thoroughly enjoy the sound of the album as well in terms of production. The piano pieces are just so beautiful, and every note has got purpose and intention, making the album incredibly focused and dynamic from start to finish. 
Find out more about Dustin O'Halloran and check out his music on his website: https://dustinohalloran.com/