I am publishing the following review of my new album 'Touch & Sound' that was originally written by Steve Sheppard and posted on the Steve Sheppard Music Reviews blog. You can read the original post here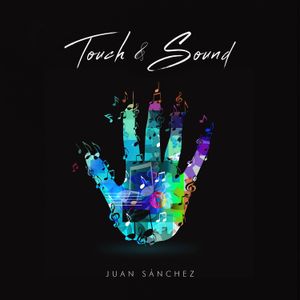 'Touch & Sound' By Juan Sánchez Written by Steve Sheppard
Juan Sánchez is a new name to me, but this is a name I shall treasure, as the musical experience I gained from listening in depth to this splendid and vast work entitled "Touch & Sound" was breath-taking.  The album is a mix of fine piano, synth backdrops and female vocalisations, and is without doubt one of the most heartfelt and beautiful albums of the year thus far. 
The first gateway is called 'Sands of Time', this is a moody and almost mournful repose that seems to float within a mist of subtle tone and timbre, a wonderfully fluent beginning indeed, one that leads into moments of reflective magic and though provoking energy, in pieces like 'Those Fridays', or ¡Piga Al Cel', two tracks that are very different from each other, but both filled with opportunities to explore the musical memory palaces before them. 
I have just spent all morning walking through a storm, and the thunderheads opened up their gift to nature, whilst a dark shadow graced the land below, and the aftermath felt much like this piece 'For When It Rains', the gentleness on piano combined with vocalisations is truly textured and touching, and in my view drifted quite wonderfully into the following musical narrative called 'A Nocturne', a night time opus that has a little global ethic to its construction too. 
'Lullaby For A Frantic World' was one of my favourite tracks as I have often thought that people live their lives with showing any respect to the seconds and minutes they live, life is such a delicate mistress, and here the subject is treated with such sensitivity and grace by the artist, that it must be one of the most moving pieces I have heard for quite some time. 
There is depth, texture, emotion and honesty within this large body of work called Touch & Sound, and tracks like 'Ataraxia', with its melodic structures, the powerful and passionate 'Human Rights' and 'Into The Night', are all very fine examples of compositions that are artistic in their own right, but ones that manifest such a deep level of emotive intensity whilst listening to them. 
Then you have a composition like 'Where Are They Now', a track that leaves a door open to explore further and perhaps find answers to questions unsolved. The piece holds a mysterious mood, but an almost film score styled compositional structure, one that builds so beautifully and pulls back with an equal level of sincerity. 
'Le Grand Bleu' would be one of my favourite tracks, I sit on one of the most beautiful islands in the world to write this in Cyprus, and from its Greek heritage and perhaps though this song, I can hear the sirens voice calling to me from one of the small islands off the coast, this was so stunning it was addictively compelling, and Juan Sanchez must be acknowledged for his manifestation of blissful ambience here. 
Strings and piano combine to bring us a warm offering entitled 'Paralian'; one can truly enjoy the smoothness of performance here, you can feel that same mood on this following delicate narrative entitled 'Astral Voices'; in fact the energies are ethereal and angelic in their essences, which makes both tracks utterly charming. 
As we sail our musical ship into the darker waters of the album we come across another personal favourite of mine called 'When Daybreak Comes', there is a hovering intensity here that is bathed in anticipation, the compositional arrangement here is of the highest quality, and the slow tentative build is akin to the sun itself rising on an early spring morning. 
'Immersion' allows us to drift into a world of gentle piano and soft backdrops of sound, ones that flow perfectly into the arms of the penultimate offering, a solo piano version of the aforementioned Astral Voices, leaving the artist to close with a moment of magic, the title track, 'Touch & Sound', with a performance so colourful, yet deeply transcendent and emotive in its arrangement, and of course a perfect way to conclude the album. 
"Touch & Sound" by Juan Sánchez is a body of work that is like an ocean of boundless brilliance, it is an album created by a composer that is most certainly in touch with his own musical muse and one who is able to manifest ambience with melody, and a gentleness of touch along the way. 
"Touch & Sound" by Juan Sánchez has to be one of the most artistic albums I have heard this year, it is a release that everyone should have in their collections, but only if they regard themselves as serious music aficionados, as this collection is as good as it gets in this genre. 
Review written by Steve Sheppard for the Steve Sheppard Music Reviews blog. You can read the original post here