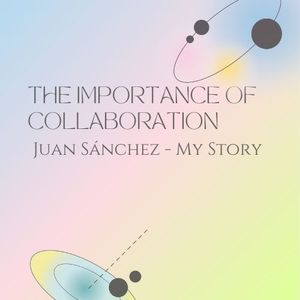 I have been working as a professional composer since 2000, and I write mainly piano-led compositions, many of which have been used in various forms of media across the internet and beyond. I wanted to take a bit of time out of your day to tell you a bit about my background, and highlight the importance of cross media collaboration, and how it has helped with my career. 
My biggest dream when I first began to compose was to use my music to tell a story, whether it's a happy one, a sad one, or an angry one, I just wanted people to understand what I was trying to convey without the use of lyrics. To me, music is an international language, a language that allows us to express ourselves in a way that words cannot. Because of this, I began to compose piano led melodies in the neo-classical and ambient music genres, lending my music to various sound libraries. Since the release of my first album, "Rebirth" in 2019, my music has also been used extensively by various creators, which has welcomed the contemporary piano to a wide audience of people who would probably never have listened to my music before. 
The title track to the album, "Rebirth" has been one of my most successful compositions to date, amassing over 800,000 streams on Spotify, and appearing in numerous playlists. This shows that the power of instrumental music is still prevalent in a world where the charts are lead by rap, hip hop and pop music, and that people really can connect with a song with no words. The soothing, relaxing tones of my music can be used as a background to meditate, relax and study to, and I believe this is what has helped contribute to the success of the album, alongside my collaborations. 
Collaborating with different individuals, such as Youtubers and other musicians has been integral to my success, and I have been privileged enough to collaborate with a number of different creators. One of my first collaborations was with a director called Albinas Kirklias, who used my piano composition "Rebirth" as the backing track to his short film "Life trip". The film itself follows a man in his thirties, who realises that he has not achieved anything he wanted to in life, and now believes that the only way out is death. 
One of my most treasured collaborations was a music video created for my Beautiful & Emotional Piano YouTube channel. The video uses 9 pieces of art by my sister Laura Sánchez, who I think is a terrific artist, and I am very proud to be able to work with her, and showcase her art to the world. The composition that was used for this is called "For When It Rains", which is inspired by the quote "when it rains, look for rainbows, when it's dark, look for stars". The song itself is a message of hope for those who are struggling with self worth and depression, and a reminder to all to always look for the light at the end of the tunnel. It features on my album "Touch and sound" can be listened and downloaded here
I have also used my YouTube channel to showcase videos that have been created by other artists and that include some of my compositions such as a showcase of art by Vincent Van Gogh, stunning animated photos of the Azores Islands, Machu Picchu, and The Grand Canyon National Park, as well as showcases of my music videos and live performances of my compositions. My music has also been used in various other YouTube videos featuring the natural world, including a beautiful compilation of Montreal in the autumn and videos of animated shots of New Zealand and Norway. 
On occasion I do collaborate with singers such as in my tracks "Le Grand Bleu" featuring Kirine, "Into The Night" featuring Caroline Joy and "Sands Of Time" which features vocals from the soprano singer Morgane Matteuzzi, which is a personal highlight of mine due to the meaning of the track. I believe that time is one of the most important things we have in the world, and once it is spent, we cannot get it back; therefore, we need to make the most of what we have on this earth, before time runs out and it is too late. 
Some of my biggest musical inspirations include music artists Max Richter and Ludovico Einaudi, whose compositions mix classical music with modern sounds, usually using the piano as the lead instrument. Despite this, an artist who will always have a special place in my heart is Phillip Glass, whose compositions are minimalistic, yet still have a rich, sparse quality that grips you until the end. His most popular track "Metamorphosis" has inspired countless other classical minimalist composers and also appearing in TV show "Battlestar Galactica". 
Every video that has used my music has done so for free, which in some people's opinion may seem like an ill informed move in a world where surviving as a musician and composer is so difficult. In my opinion, being selfless and allowing creators to use my music for free has been an ingenious marketing tool, as many of the short films and videos using my music have gone on to get thousands of views, and this has allowed my compositions to reach places further outside my connections. 
In the future, I do hope to be able to play my music around the world to a live audience of avid fans, however I am aware that all good things come to those who wait. For now, I am looking forward to creating new compositions, and seeing where my music can take me, and what stories it can tell.
Juan Sánchez