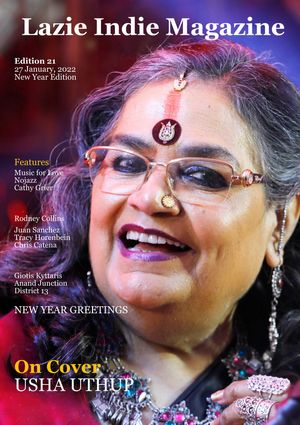 I am so happy to be one of the featured artists in the January 2022 edition of Lazie Indie Magazine. I have published the full interview in this blog entry but you can also read the original interview on the online edition of the magazine here
Juan Sánchez Interview with Lazie Indie Magazine
"Being an independent musician is a full-time job in itself, and the most successful artists out there are usually those who have discipline and structure built into their daily routine. Sounds cliché, but consistency is key!" - Juan Sánchez
Hi Juan, you have had a very exciting career as a pianist and a composer. How do you feel was your journey so far as a musician? 
Hi, thanks for this interview, I appreciate your interest. So far I feel that this journey has been very enjoyable and rewarding. I have taken different musical directions over the years and during the process I have learned lots of things and I never stop learning new ones, I am a very curious person and I like to experiment with new projects and ideas. Being an independent artist is a lot of hard work but also very rewarding as I am free to make my own decisions and decide what I am going to do next. 
Who/ what were your musical influences and how did you arrive at this genre you play? 
I've had different influences. For example, during the late 1980s and early 1990s I was listening to the music of composers such as Vangelis, Mike Oldfield and Jean Michel Jarre, so I was influenced by them. Then during the mid 90's I started to listen to electronic music artists such as Chicane, Future Sound of London and Robert Miles, so I also became influenced by them. 
Years later I discovered the music of artists such as Max Richter, Ludovico Einaudi, Philip Glass, Yann Tiersen, Luke Howard and other contemporary crossover/minimalist composers who also influenced me. As I was growing older, I discovered that the way I was composing was more in the style of these composers, something more minimalist with usually the piano as the main instrument, it was in this classical crossover genre where I felt more comfortable and also more identified. 
How do you go about composing your songs? what inspires you the most? How do you record and produce your music? 
As a composer, I do not have any specific work schedule. I am also a sound designer so I combine my composing job with my sound design job. Usually I compose in the evening after I am done with my sound design job. I sit at the piano and I start playing and improvising and when I hear something that I like and think that it could be developed into a complete piece, I record it and then I start working from this initial idea. 
I record and produce my music using different recording studios and music producers. I also hire session musicians such as string players, sopranos, etc. 
What do you look to convey to your listeners when you create music do you look to set a theme first or do you let the tune of the song take over and decide what it is to be interpreted as? 
I let the song to take over and then decide what will be the story behind the song once the music makes my imagination fly and I start imagining situations, places, people, etc… Each piece evokes something and this is how I decide the title for each song depending of what the music is evoking. 
Where do we find your music on the internet? Which is your latest release?
My music can be found on all the digital music streaming platforms such as Spotify, Soundcloud, YouTube, Deezer, Apple Music, etc… I also have my own website where people can listen and download my music for free. 
My latest release is my third album 'Touch & Sound', a piano-driven album with ethereal   female voices, synthesizer backgrounds and string arrangements. The meaning behind Touch & Sound is the hybridization of my two loves – growing up as a classical musician and falling in love with Ambient/New Age electronic music later on. 
What gives you the kick, writing, producing, or playing live and why?
Until now, what gave me the kick was composing and producing but recently I have been more focused in finding live gigs in the area of Barcelona as I want to gain as much experience as possible in this field. The reason is that I strongly believe that once you have created a few albums, then you need to play live gigs to see how people react to your music. I have now signed an agreement with a booking agent in Barcelona and soon I will start doing live and also streaming concerts. 
The lockdown brought the industry to a halt for some time but many in music used it for creating new music. How did you spend this lockdown with respect to your music? 
Like lots of other musicians, I did spend the lockdown composing and recording new music and it was during this period that I finished my second album 'Now The Silence', an album that explores the topically relevant impact of enforced solitude and quiet time that we were experiencing during the lockdown, hence the title 'Now The Silence'. 
What are your immediate future plans?
My immediate future plans for this new year are finishing what will be my 4th album that I am planning to release next October 2022 and playing live and streaming gigs from different locations in Spain. 
What is the best advice given to you and what would you share with fellow young artists? 
Enjoy what you are doing and do not compare yourself with other artists. Never stop learning. It is also very important to learn how to market your music, this is the key to become successful, you need to create good music of course, but you also have to be very good at promoting it. 
Thank you for your time and it was great speaking to you. 
The pleasure is mine. Thanks for the opportunity to be featured on your fantastic magazine!