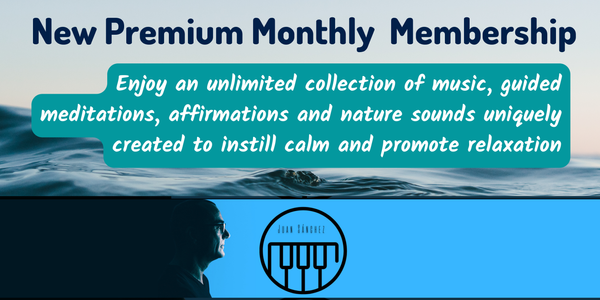 In the past, I composed relaxation music albums and also recorded nature sounds from different locations while I was traveling and I thought that it would be a good idea to offer all of these products to my listeners for a low monthly subscription so I created this premium membership area
With this new monthly subscription, you will have access to all of my existing piano music plus all the albums from my back-catalog of relaxation music and nature sounds. All available to stream and download.
Each month I will also be adding new piano music, exclusive and unique relaxation and sleep music, nature sounds audios, guided meditations, audio affirmations with relaxation music and more to help people to find everything they need for their relaxation sessions. 
By subscribing to this monthly membership you are getting access to unlimited hours of music and nature sounds audios uniquely created to instill calm and promote relaxation. 
Here is what you'll get with this monthly subscription: 
✔️ All of my published piano music and some other exclusive and unique tracks only available here 
✔️ Classical piano pieces of Mozart and Beethoven 
✔️ 1 hour Nature sounds audios featuring rain, sea, whales, night forest sounds and more. 
✔️ Meditation music albums 
✔️ Ambient music albums 
✔️ Guided meditations and affirmations with music and much more as I will be adding new content every month 
Benefits: 
✔️ You can cancel the subscription at any time 
✔️ Keep your groove going with no commercial interruptions 
✔️ High quality quality audio streams 
✔️ Discover a place made calm by music and nature's own soundscape 
✔️ Enjoy a large collection of music, guided meditations, affirmations and nature sounds
You can susbscribe to this monthly membership area here